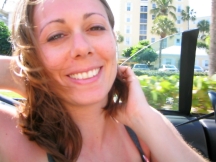 She made you feel like you where the only one that mattered in HER life.
She made you feel special. She made you feel loved.

She was special and she was loved. Her death has created a hole in the family and a hole in our hearts.
It's amazing how one person can affect so many lives. It's the ripple effect. We can only hope that we can make as much a difference in the world as she did. She didn't become powerful, rich or famous, she was just herself and enjoyed life to the fullest, which made others around her happy too.
I admired her courage, strength, dedication, and spontaneous personality. I can only hope that I'll be able to be as wonderful as her one day. - Her Aunt, Becky..