Sturm Reunion 2001


Hueston Woods State Park
June 8 - 10th, 2001
If anyone has pictures or stories to share about this weekend, email Becky.
Friday:
Everyone showed up early except Dave Wolf Jr. He didn't get to Hueston Woods 'til Saturday morning. We decided that a swim sounded good, so a group of us (Brittany, Autumn, Nicolas, little Frank, Frank Jr., Frank Sr., Kathy, Sue, Pete, Tracy, Sarah and Kelly (Frank's girlfriend)) went up to the indoor lodge pool for a dip. After our swim, we made friends with the "wild" cats in the area and settled into the cabins. We had a short discussion about the activities for Saturday and sat around the main site.
Some of us (Autumn, Kirsten, Brittany, Sue, Kathy, Becky, Rick S., Teresa, Danielle, Tracy, Sarah, Frank Jr., little Frank, Nicolas and Kelly) went on a night hike that was given by the park. It was a little scary for some of the younger crowd, but Autumn made it though. There was also a lot of talk about Trolls ("I'm a troll, 'oly 'ol, I'm a troll, 'oly 'ol, I'm a troll, 'oly 'ol, and I'll eat you for supper", as Dick would sing)
Saturday:
A group of us (Dave, Sr., Frank Sr., Frank Jr., Kelly, little Frank, Nicolas, Pete, Kirsten, Autumn, Rick J., and Becky) went fishing on the lake with a pontoon boat (curtesy of Dave Sr.) in the morning. Our second spot was teaming with fish, but instead of biting, they were spawning. Kirsten caught the first and only fish of the day. Good fishing, Kirsten.
Another group (Doris, Sue, Kathy ) went shopping and site seeing in town.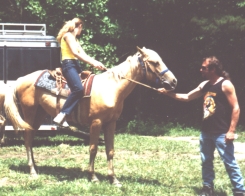 Two groups went horseback riding. The first group was Teresa, Rick S. and Brttany. There were out for an hour in the woods. Teresa was a little sore, because she had a wide horse. Before the second group went out, Pete took Autumn on a pony ride in the meadow. Autumn was very excited when they got back. The second group was Danielle, Kirsten, Rick S. and Becky. Jeff was going to go, but decided he didn't want to, so Rick went. That was the second hour for Rick and boy did he feel it. It was a very relaxing ride though the woods and mud.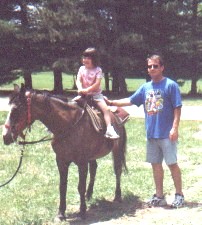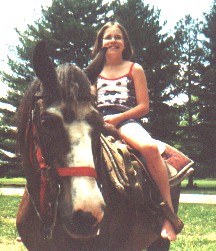 Tracy, Sarah, Lee, Kathy, Sue, Doris, Autumn, Dave Jr., Frank Jr., Kelly, little Frank, Nicolas, Kirsten, Brittany decided to take a dip in the outdoor lodge pool.
Horseshoes got started a little late. The horseshoe pits were a little shabby, but workable. Once we got started, everything went smoothly. The players were Rick J., Rick S., Dave Sr., Dave Jr., Pete, Becky, Jeff and Lee. Dick did a good job keeping everyone on track and acting as referee. Jeff got the horse's ass trophy, Dave Sr. got the second place award and Becky got the first place award.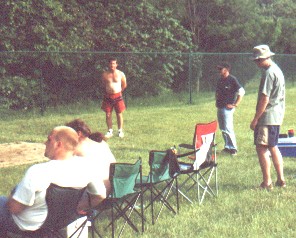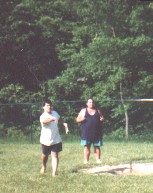 We all ate a wonderful dinner. Everyone supplied a dish. After the dinner we had the 1st annual Sturm/Ramer reunion meeting.
After dinner, almost everyone went up to the lodge for a campfire. We sang campfire songs until everyone else left the circle. Dave Jr. provided a peach cobbler dessert to top off the evening.
Sunday:
Not much happened on Sunday. Everyone packed up their stuff, said their goodbye's and thank you's and got on the road toward home.