Short Family History:
Harold's mother, Mary Anna Day, has a few interesting characters in her lineage. Some of the surnames are Cary, Axtell, Caldwell, Riggs and Darling. I am still doing research on this family, but I do know that there were Axtells on one of the first ships to America. I don't know if there is a connection yet. I can say that Mary Anna Day is mostly of English decent.
Harold's grandfather, William Edwin Wilson, is from Ireland, and his grandmother is from England. That's about all I know about that family. I really haven't done a lot of research on Harold's father.
Unproven Family Rumors and Questions:
Photos: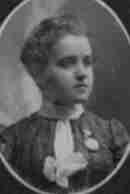 Here is a Wilson family picture that stated "sister Mary" on the back of it. This photo was taken in Washington, PA. I don't know who this woman is, if anyone has any hints, let me know.