Short Family History:
Wilhelm Sturm and Wilhelmina Stapel were married in Germany in Sep. 1889. They board the ship "America" with all of Wilhelmina's family in Breman, Germany. They arrived in Baltimore, NC in Oct 1889. From there, some of the family moved to Cleveland, OH. Around 1893-5 Wilhelm Sturm and his family move out to Hambden, OH. A lot of the Staples are also found in Hambden, OH.
In the 1920's, the Sturm and Stapel families hit hard times. A few die of Typhoid Fever, others die from a bus/train accident and John Sturm is starting to have problems with his MS. Only 4 of Wilhelm and Wilhelmina's children have families of their own. These four families include the Braids, Grants, and the Sturms (in Ohio and Pennsylvania).
Unproven Family Rumors and Questions:
Wilhelmina's father, Johan Stapel worked for a Baron in Germany who took advantage of his daughters and this is why the Stapels came to America.
Lillian Sturm (married name: Braid) received a letter from Germany from family members still in Germany needing help to come over to America.
The Stapels and Sturms live near the Kreinbrings in Cleveland, OH. Are they related? John Stapel married Wilhelmina Kreinbring. There is a William Kreinbring that lives in Cleveland in 1872-?. His children marry in the families: Burwig and Banfield. These names are common at our family reunions. There is also a Charlotte Kreinbring who marries a William Toussaint. Toussaint is another of our family names.
The city in Germany where the Stapels and the Sturms come from is unknown.
Photos: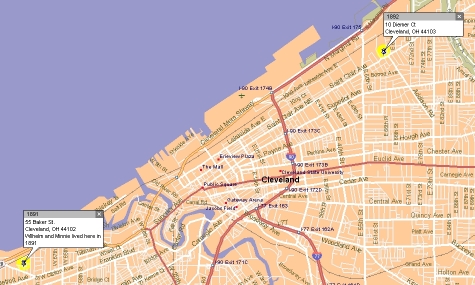 This is a map of where Wilhelm Sturm and Wilhelmina Stapel lived in Cleveland in 1891 (left) and 1892 (right).
John August Sturm at about age 24. This picture was taken on his brother's farm (William Sturm, Jr.) in Hambden, OH.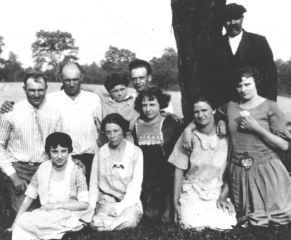 This is Bill Sturm's Farm in the summer of 1923 in Hambden, OH. This picture was taken after the train accident that killed Corwin and Max Sturm and after Wilhelmina Stapel (Wilhelm Sturm's wife) dies.
People from Left to Right, Bottom Row: Marie Ramer (John Sturm's wife), Inez Chamberlain (Bill Sturm's wife), Lillian Sturm, Louise Sturm, Elsie Sturm.
Top Row: John Sturm, Bill Sturm, Vaughn Sturm (son of Bill and Eltha Hardich [Bill 1st wife]), Forest Chamberlain (Inez's brother), Wilhelm Sturm).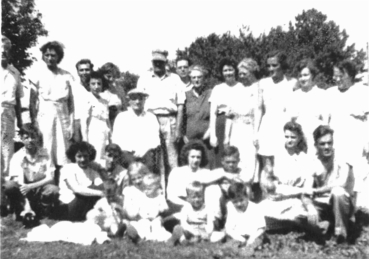 Here is a picture of the Sturm Family Reunion in 1946 on Bill Sturm's farm in Pennsylvania.
People from Left to Right, Top Row: John Banfield, Lillian (Sturm) Braid, Vaughn Sturm, Marie (Ramer) Sturm, Bethy Allen, John Sturm (in chair), Bill Sturm, Stanley Braid, Sr., UNK, UNK, Lillian Banfield, Christen Allen, UNK, Kate (Allen) Sturm
Bottom Row: Jimmy Braid, Babe Hoch (Dick Sturm's girlfriend), Dick Sturm, Jane Tinker (Jack Sturm's girlfriend), Phillip Sturm, UNK (girlfriend of Herb Allen), Herb Allen
Children in Front: UNK baby, UNK boy, Joann Sturm, UNK boy, UNK boy, Stanley Braid, Jr.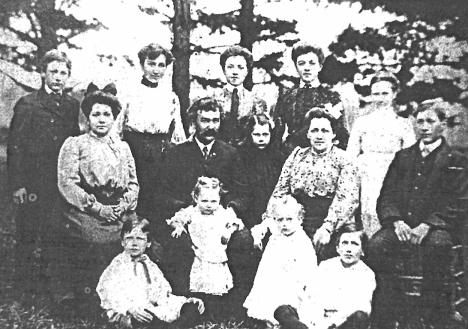 Here is a picture of the Chamberlains at their family home in 1902 in Hambden, OH.
Top row (L to R): Ralph Chamberlain, Ethel Chamberlain (married Ralph McNaughton), Amy and Anney Chamberlain, Louise Chamberlain.
Middle row(L to R): Elsie Chamberlain, A.B.C. Chamberlain, Inez Chamberlain (married William Paul Sturm), Rowena Bell (Strate) Chamberlain, Forest Chamberlain (married Martha Winchell).
Front row(L to R): Roy Chamberlain, Marion (Dolly) ? (adopted 1903), Nelson (Pete) Chamberlain, George Leo Chamberlain.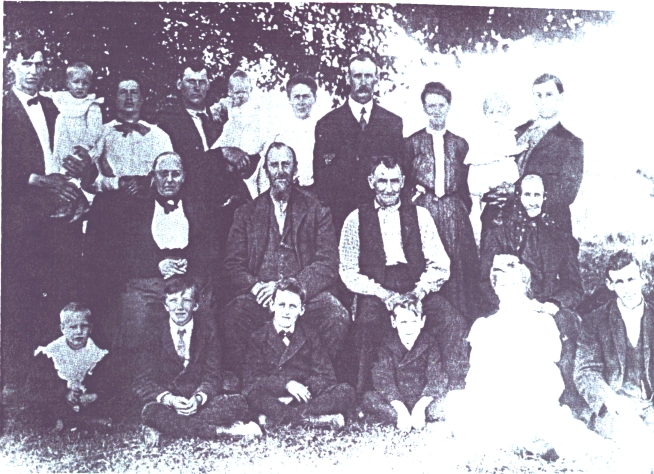 Here is a picture of the Grant Family at the home of Leonard and Betsy Grant in Hambden, OH in 1904.
Top Row (L to R): John Grant holding he son Glen "Chicken", Grace Armena (Alderman) Hubbard Grant (wife of John called Minnie, formerly Mrs. Hubbard), William L. Grant holding his daughter Mabeletta (the child became the wife of Otto Mumford), Noma A. (Trask) Grant (wife of William), Leonard Grant Jr., Carrie (Beach) Grant (wife of Orie), Myrtle Grant held by her father, Orie.
Middle row (L to R): Arletta (Fox) Grant (wife of Charles Grant), Charles Grant, Leonard Grant, Sr., Betsy (Marshall) Grant (daughter of Polly (Rider) Marshall, born in Chardon in 1818)
Front row (L to R): Edward Grant, Charles Grant (Dick), Lloyd W. Grant (spouse was Louis Marie Sturm), Roy Robert Grant, Florence Hubbard and Clarence Hubbard.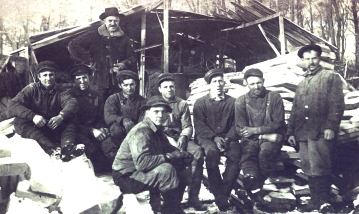 Here is a picture of a sawmill in Hambden, OH sometime before 1922.
Back row: John Carl (called Carl) Staple, Sr.
Middle row (L to R): John Sturm, Max Sturm, Bill Setters, Corwin Sturm, Lloyd Grant(?), William Sturm, Jr., Carl Staple, Jr.
Front row: Ernie Staple